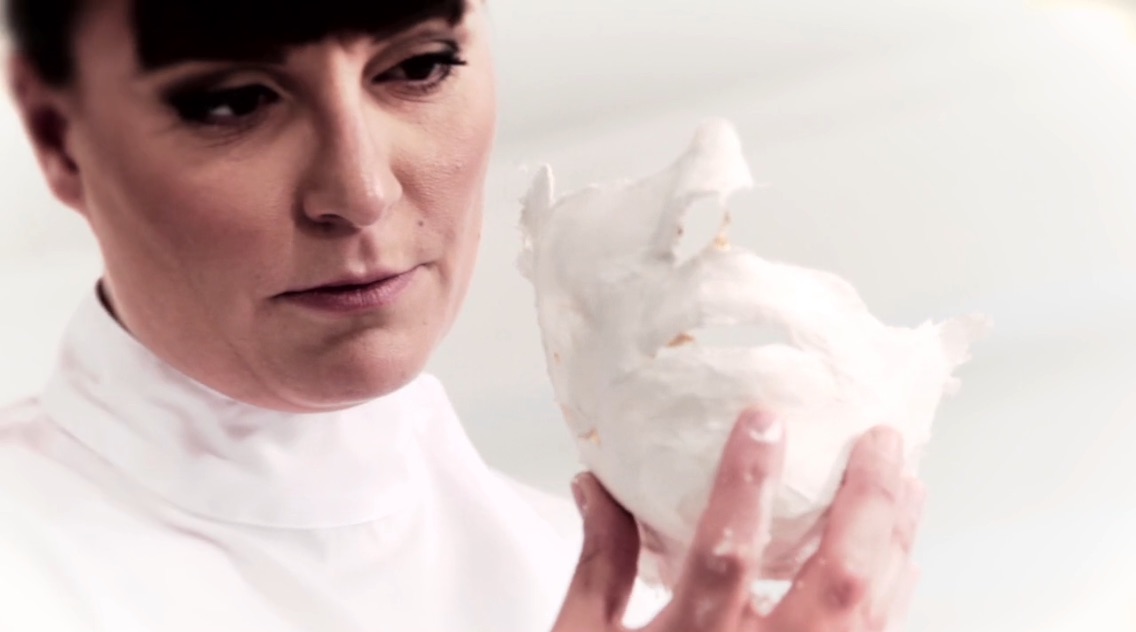 BIO
Paola Michela Mineo is visual artist who works and live between Milan and Pietrasanta.
"She has developed a new sculptural language, fragmentary but alive, dynamic and empathetic" (Giovanna Lacedra)She graduated in Architecture at Politecnico di Milano and Politecnion of Athens.
In that period she began working on a new meaning of human cast, using it in a different way from the sculptural tradition: the human cast for her is not as a "copy" of bodies, sculptures or architectural structures, but it's an element full of value, medium of a personal and relational story. For Paola the human cast is the live portrait of identity's fragments . The theme of archaeological fragment was born during the same years remaining the main features of an interdisciplinary language that ranging from performance art to photography, from the pure sculpture to installations. These tools of visual art, however, are the expression of a relational art ; infact she create a relation with the object/subject of her portraits, but she also continued this relation with the public of her works, that generally are open to the phisical interaction, wearing the casts or moving in the artistic space.
Over the years he has exhibited her work at Salone Donatello of Basilica di San Lorenzo in Florence, at the Museo degli Ipogei of Trinitapoli, at the Amleto and Donato Sartori International Mask Museum, at the Museum and Laboratory of contemporary art in Rome (MLAC). In Milan she brought her work to the Foundation Marco Mantovani, and she was invited to expose as a junior artist with the sculptor Helidon Xhixha, during the project IULM Open Air, in the university.
In 2011 she worked on the theme of immigration with a trip to Lampedusa; she has fallen into the local reality placing her attention on the deep hospitality ability of Lampedusans and she has designed an artistic journey that saw them as protagonists, with the aim of translate the experience in a itinerant monument dedicated to the island and its specials inhabitants. The project remained on paper, but the artist began to live dark and difficult social realities, landing in the realization of Impronte Sfiorate. The inspiration was born from strong experience that Paola has developed on the theme of pregnancy and motherhood, and it is the creative result of a long period lived in an experimental prison just for new mothers (I.C.A.M.). In this time the artist has built relationships, involved, worked and interacted with educators and mothers, returning in a participatory and innovative art exhibition the transformation of some of them, from simple prisoners -at that time they were all gypsies- without a social identity to co-stars of contemporary art performance. Impronte Sfiorate is presented two years later at the Spazio Oberdan in Milan, from July to October 2014: promoted by the Province of Milan, sponsored by the Ministry of Justice, the Lombardy Region, the City of Milan and accompanied by a letter from the Presidency of the Republic ( it has proclaimed its social and cultural value) has brought excellent results in raising awareness among the big public. The artist personally spends on initiatives with schools, workshops for children, guided tours, etc. … and here she understands even more the power of his relational path. Since this exposition her sensitivity has been more recognized, taking part clearly to the contemporary art change who move the attention from the art object to the process that generated it and to the relational one.
In 2015 she designed for La Vigna di Leonardo di Milano an installation dedicated to the garden of Casa degli Attellani, and in 2016 she was the artistic director for La Montina winery of #waitingwalkingwater, an event organized in Franciacorta during Christo's and Janne-Claude Floating Piers. In December 2016 she founded with the Italian artist Francesca Fini, Performance Art TV, a "social TV" dedicated to the live streaming on social networks of performance art works.The special streaming format available on the net, the use of a familiar device such as the smartphone, the ephemeral nature of communication on social networks, are all elements that provocatively overlap to idea of ​​"live" as the creative process that guides the production of any work of art.
Consistently with her research path, she is currently dealing with a similar creative process developed at the ICA.M., the field of degenerative diseases. She is working to spread her innovative and unconventional art relational approach by teaching it through performing workshops in the school and in the museum educational programs (for children and adults), in prisons, institute…
**//**
Paola Michela Mineo è un'artista visiva che vive e lavora tra Milano e Pietrasanta; nel corso dei suoi anni di ricerca " ha elaborato un nuovo linguaggio scultoreo, frammentario ma vivo, dinamico ed empatico " (Giovanna Lacedra). Si laurea in Architettura tra il Politecnico di Milano e quello di Atene, e proprio in quegli anni inizia a rielaborare il significato del calco dal vero, utilizzandolo in maniera diversa da quello della tradizione scultorea: il calco umano non come "copia" di corpi, sculture o strutture architettoniche, ma come elemento stesso dotato di valore, medium di una storia, il calco come ritratto dal vero di frammenti di identità. Anche il tema del frammento archeologico e dell'incompiuto si radicano in quegli anni di studi rimanendo fino ad oggi i capisaldi di un linguaggio interdisciplinare che spazia dalla performance art alla fotografia, dalla scultura più pura alle installazioni.
Tutti mezzi espressivi di un'arte relazionale perché il rapporto diretto tra l'artista e il suo soggetto/oggetto ritratto fluisce nella relazione finale col pubblico, che interagisce con l'opera come fosse una "struttura gestuale", un dispositivo (il calco) carico di vita e di storia, da vivere in prima persona e, quindi, reinterpretare. Ha sempre avuto talento nel riconoscere la bellezza, anche nelle persone o situazioni peggiori. Nel tempo ha compreso che era ed è sua responsabilità renderla visibile e sperimentabile a più persone possibili.
Negli anni ha esposto il suo lavoro al Salone Donatello della Basilica di San Lorenzo a Firenze, al Museo degli Ipogei di Trinitapoli, al Museo Internazionale della Maschera Amleto e Donato Sartori, al Museo e Laboratorio di Arte Contemporanea a Roma (MLAC). A Milano ha portato il suo lavoro alla Fondazione Marco Mantovani, ed è stata invitata dall'Università IULM ad esporre come artista junior a fianco dello scultore Helidon Xhixha, durante il progetto IULM Open Air.
Nel 2011 ha lavorato sul tema dell'immigrazione con un viaggio a Lampedusa; si è calata nella realtà locale ponendo la sua attenzione sull'eccezionale grado di accoglienza dei lampedusani e ha progettato un percorso artistico che li vedeva protagonisti, con l'intento di culminare il racconto esperienziale in una monumento itinerante dedicato all'isola e ai suoi speciali abitanti. Il progetto è rimasto sulla carta, ma l'artista inizia sempre di più ad approfondire realtà sociali a lei oscure e difficili approdando, nel 2012, all'ideazione e realizzazione di Impronte Sfiorate. L'ispirazione è nata dall'esperienza decennale che Paola ha sviluppato sul tema della gravidanza e della maternità, ed è il risultato creativo di un lungo periodo vissuto in un carcere sperimentale proprio per neo mamme (I.C.A.M.). In questo tempo l'artista ha costruito relazioni, coinvolto, lavorato ed interagito con educatori e detenute madri, restituendo in una partecipata e innovativa mostra la trasformazione di alcune di loro, da recluse senza volto (in quel momento le madri erano tutte di etnia Rom) a vere co-protagoniste di performance di arte contemporanea. Impronte Sfiorate viene esposta due anni dopo allo Spazio Oberdan di Milano, da luglio ad ottobre 2014: promossa dalla Provincia di Milano, patrocinata dal Ministero della Giustizia, dalla Regione Lombardia, dal Comune di Milano e accompagnata da una lettera della Presidenza della Repubblica (che ne ha proclamato il valore sociale e culturale) ha portato ottimi risultati nella sensibilizzazione del numeroso pubblico. L'artista si spende personalmente in iniziative con le scuole, laboratori per bambini, visite guidate etc…e lì comprende ancora di più la potenza del suo percorso relazionale. Da allora è sempre più riconosciuta la sua sensibilità, che partecipa a quel mutamento che nell'arte contemporanea vede il passaggio di concentrazione dall'oggetto d'arte al processo che l'ha generato e a quello relazionale.
Nel 2015 ha progettato per La Vigna di Leonardo un'installazione dedicata al giardino di Casa degli Attellani, ed è stata nominata direttore artistico nel 2016 di #waitingwalkingwater, evento organizzato in Franciacorta per l'azienda vinicola La Montina, durante The Floating Piers di Christo e Janne-Claude. Nel dicembre del 2016 ha fondato con l'artista italiana Francesca Fini, Performance Art tv, la prima "social tv" in Italia dedicata alla diffusione in diretta streaming sui social network di azioni performative; anch'essa potente piattaforma di studio e sperimentazione sociale delle nuove relazioni sociali del web.
Coerentemente ed in prosecuzione con il suo percorso di ricerca, sta attualmente affrontando con un analogo processo creativo sviluppato all'I.C.A.M., l'ambito delle malattie degenerative . Si sta occupando di diffondere il suo innovativo e non convenzionale approccio artistico-relazionale insegnandolo attraverso dei workshop performativi nell'ambito scolastico, della didattica museale (per bambini e adulti), delle carceri e degli istituti…